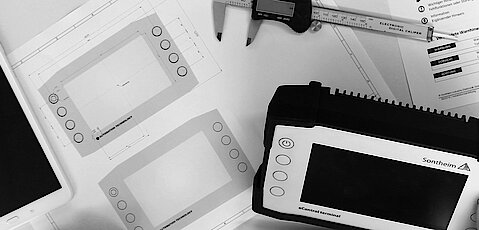 Engineering – As a system provider, we realize your ideas
As an expert in various fieldbus tech­nologies, we would be happy to support you with customer-specific devel­opments in the area of software, hardware, firmware, as well as the design and conception of your automation or automotive solution. Here you benefit from our holistic know-how as a system provider and the perfect interaction of functional hardware and suitable firmware up to the modular and optimized software. From our almost 25 years of experience in auto­mation and diagnostic technology, we can build on acquired knowledge and develop perfect solutions for our customers in combination with new trends and inno­vations on the market.
Our motivated and highly specialized experts are happy to take on your project ideas and adapt technologies to your requirements. Challenges and current issues such as efficient energy manage­ment, the optimal use of resources or solutions for Industry 4.0, drive us to develop innovative products for you and integrate them into your existing system. This results in modern automation and automotive systems and a short time-to-market. With our fieldbus know-how in CAN, EtherCAT, PROFIBUS, Sercos, PROFINET and many other protocols, we cover a wide range of applications.
Extract of various customer-specific solutions:
3D printing system based on our ePC
CAN-based control units / gateways with integrated diagnostic function. Used in agricultural vehicles, etc. for operating data acquisition
Automation systems based on CAN and EtherCAT. Used in packaging, textile, food or sorting machines
Various VCIs with customer-specific fieldbuses and interfaces. Used for various communication and diagnostic tasks in commercial, special, municipal and agricultural vehicles.
DoIP protocol stacks, CAN protocol stacks and UDS protocol stacks for various customer-specific applications and applications in both the automation and automotive sectors.
...
All products are certified according to national and international test standards (e.g. CE, GL, FCC, ...) and are adequately tested in internal and external EMC tests and as requested by the customer. We would be happy to develop electrical, electronic and programmable electronic (E / E / PE) systems for you in accordance with DIN EN 61508.
We help you to implement functional safety according to your individual requirements, tailored to your system and your processes. The processes and tech­nologies comply with the applicable laws and standards, for example for mobile machines and industrial applications according to ISO 25119.