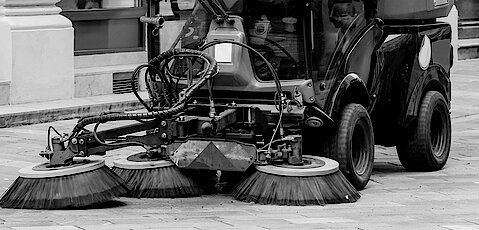 In the area of ​​municipal vehicles, the fields of application are often very different. The vehicles can be fire eng­ines, sweepers, winter service vehicles and other special vehicles. Thanks to our in-depth know-how in the field of mobile machines and our modular product portfolio, we can provide OEMs standardized system so­lutions in this area. Sontheim has specialized in solutions for municipal ve­hicles for almost two decades.
You will find matching solutions in our automation technology portfolio, as well as in the area of ​​our diagnostic portfolio. We enable you to control, diagnose and connect your machines – quickly, safely and reliably. We particularly focus on the variety of variants, since every vehicle can be unique, especially in municipal vehicle construction.
As in many other industries, the diversity and robustness of the used automation solutions is particularly important in the municipal sector. Our controls meet the highest requirements with regard to oper­ating and storage temp­er­ature, vib­ra­tions and shock, as well as electro­magnetic compa­ti­bil­ity (EMC) and tigh­tness. Almost all control units meet the IP67 and IP69K protec­tion classes. We also offer safety-certified controls in accor­dance with ISO 26262 with up to 89 different inputs and outputs.
Our portfolio also includes sensors for capturing data, as well as display and terminal solutions. These can be used to operate machines and to evaluate status information such as alarm messages or targeted diagnostic information.
We offer OEMs a comprehensive diagnostic portfolio based on the latest industry standards such as ODX according to ISO 22901-1 and OTX according to ISO 13209 as well as an MCD-3D server. Our products are extremely performant and platform-independent. A diagnosis is therefore possible on a PC, laptop, mobile device or embedded, directly in the vehicle. RMI information and other EU guidelines can also be handeld with our tools.
MDT® 2.0 Authoring System
MDT® Service Cloud (remote diagnosis)
CLCM 2.0 – Lifecycle manager for data description based on ODX
CANexplorer 4 for CAN bus analysis
Flash tool
This covers a wide range of development, service and main­te­nance app­li­ca­tions, such as flash tools, end-of-line (EoL) program­ming and dia­gnos­tic software for Service 4.0 app­li­ca­tions. You can also map the wide range of variants in the area of ​​mu­ni­cipal ve­hicles with the help of our mo­du­lar dia­gnos­tic systems. With our VCI port­folio, we also provide the interface to the vehicle and are happy to adapt existing VCIs to your requirements.
End of line
On-board diagnosis
Remote diagnosis
VCIs – Powerful Vehicle Communication Interfaces
Protocol Stacks
We connect machines and enable solutions for IoT- and Service 4.0 applications. Our telematic ECUs and cloud systems enable manu­factur­ers of muni­cipal vehicles big data analysis, updates over-the-air and targeted fleet manage­ment. We are happy to im­ple­ment individual telematic solutions for a continuous over­view of vehicles in the field, including current GPS position, GEO fencing, log­ging function and numer­ous protocol supports.
Modular telematic ECUs – COMhawk® series
Cloud systems
IoT Device Manager for updates over-the-air
IoT Analytics Manager for statistical evaluations
Predictive maintenance and condition based monitoring software