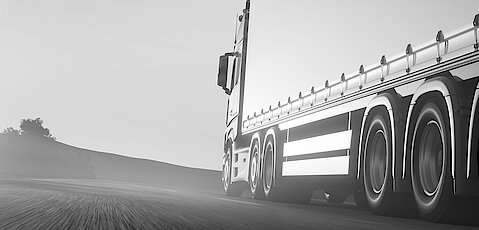 In the field of commercial vehicles, we have contact with OEMs for trucks, tow­ing vehicles and buses. The requir­ements for safety-relevant systems are constantly increasing in this area. Scalable, high-performance and reliable automation systems have become indis­pensable for com­mercial ve­hicles and also in this area, the digi­ti­zation of machines is moving into the focus. With our modular system so­lu­tions we provide manu­fact­urers a tool chain that provides everything from a single source.
OEMs can handle with our tool chain control tasks, condition monitoring applications using our telematic series and our cloud systems, up to a vehicle diagnostics based on standards. Here we have in particular the repair and main­te­nance infor­mation (RMI) intro­duced with Euro-IV in view. With our tools, manu­fact­urers can implement these require­ments easily according to ISO standards.
With our powerful control units out of the eSys-SVCx family, we offer OEMs a scalable platform for safety-related applications up to ASIL-C. Up to 89 IOs are available and according to ISO 26262 we meet the safety-relevant regulations for electrical/ electronic systems in motor vehicles. In the area of ​​control tech­nol­ogy, we have numerous customer-specific solutions that are tailored to individual applications.
Our in-depth know-how with the pro­to­cols used in the auto­motive sector opens up a wide range of app­li­cat­ions for us. Our port­folio also includes sensors for recording data, as well as display and terminal solutions for operating and evaluating work machines.
We offer OEMs a comprehensive diagnostic portfolio based on the latest industry standards, such as ODX according to ISO 22901-1 and OTX according to ISO 13209, as well as an MCD-3D server. Our products are ex­trem­ely performant and platform-indepen­dent. A diagnosis is therefore pos­sible on a PC, laptop, mobile device or embedded, directly in the vehicle. This enables a multi­tude of develop­ment, service and main­tenance app­li­cations to be covered, such as flash tools, end-of-line (EoL) program­ming and dia­gnos­tic software for Service 4.0 applications.
MDT® 2.0 Authoring System
MDT® Service Cloud (remote diagnosis)
CLCM 2.0 – Lifecycle manager for data description based on ODX
CANexplorer 4 for CAN bus analysis
Flash tool
On the basis of diagnostic standards, we enable trailer manufacturers to integrate their systems into those of a truck manufacturer and vice versa. This enables, for example, a targeted analysis of the overall system without having to access two different diagnostic solutions. With our VCI portfolio, we also provide the interface to the vehicle and are happy to adapt our existing VCIs to your needs.
End of line
On-board diagnosis
Remote diagnosis
VCIs – Powerful Vehicle Communication Interfaces
Protocol stacks
We connect machines and enable solutions for IoT- and Service 4.0 applications. Our telematic ECUs and cloud systems enable global net­working and co­nnec­tion to a CMS system for further proces­sing of data and sub­sequent analyzes. We are happy to im­ple­ment your indi­vidual tele­matic solution for a contin­uous over­view of your vehicles in the field, including current GPS position, GEO fencing, logging functionality and the support of numerous protocols.
Modular telematic ECUs – COMhawk® series
Cloud systems
IoT Device Manager for updates over-the-air
IoT Analytics Manager for statistical evaluations
Predictive maintenance and condition based monitoring software