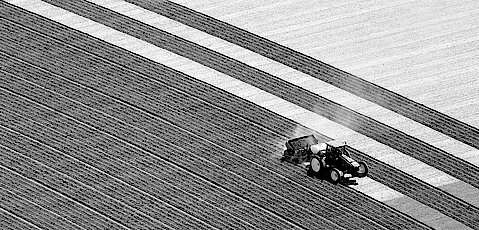 Agricultural Machines and attachments
Reliability, robustness and system so­lutions from a single source are essen­tial and of great ad­vantage in the agri­cult­ural sector. New require­ments and regu­lations, as well as ad­vancing global­ization and focused sustain­a­bil­ity, are further increas­ing the complexity of agri­cult­ural machinery. Today's modern tractors, self-propelled machines and at­tach­ments are equipped with a multi­tude of control units, sensors and intelligent software. As the world market leader in the field of interface technology for agricultural machinery and a long-standing diagnostics specialist, many major OEMs have been relying on Sontheim products for decades. With our core topics of mobile automation, dia­gnos­tics and connec­tivity, we offer an integrated product portfolio for holistic solutions.
We are particularly familiar with the protocols in the agricultural sector. Especially in the area of ​​ISOBUS, we have in-depth know-how and many success­fully completed projects. Through our membership in the AEF (Agricultural Electronics Foundation) we actively pro­mote standards in the agri­cult­ural sector and create tech­nol­o­gies of tomorrow. A common project is for example the AEF ISOBUS Check Tool for a quick inter­oper­a­bil­ity test of ISOBUS devices. Our ex­per­ience from other organ­i­za­tions, such as the ASAM (Asso­ciation for Stan­dar­di­zation of Auto­mation and Meas­uring Systems) or the CiA (CAN in Automation), are also incorporated here.
We automate applications in the agricultural sector. Regardless of whether customer-specific or based on our standard products. OEMs receive holistic solutions for the auto­mation of machines and work processes. Our products are specially designed for 24/7 use under the harshest conditions and impress with their robust­ness and certi­fi­cat­ions. We are very familiar with the standards in the agricultural sector and we have in-depth know­ledge of CAN, ISOBUS, J1939, K-Line and other com­munication standards in this area.
Our portfolio also includes sensors for the acquisition of data, display and terminal solutions for the operation and eval­uation of machines, up to control units with IO-funct­ional­ity and in acc­or­dance to funct­ional safety requirements.
We offer OEMs a comprehensive dia­gnos­tic port­folio based on the latest industry standards, such as ODX according to ISO 22901-1 and OTX according to ISO 13209, as well as an MCD-3D server. Our products are extremely performant and platform-independent. A diagnosis is therefore possible on a PC, laptop, mobile device or embedded, directly in the vehicle.
MDT® 2.0 Authoring System
MDT® Service Cloud (remote diagnosis)
CLCM 2.0 – Lifecycle Manager for data description based on ODX
CANexplorer 4 for CAN bus analysis
Flash tool
This covers a wide range of development, service and main­tenance app­li­cations, such as flash tools, end-of-line (EoL) program­ming and dia­gnostic software for Service 4.0 app­li­cations. With our VCI port­folio, we also provide the inter­face to the vehicle and are happy to adapt our existing VCIs to your needs.
End-of-line
On-board diagnosis
Remote diagnosis
VCIs – Powerful Vehicle Communication Interfaces
Protocol Stacks
We connect machines and enable solutions for IoT- and Service 4.0 app­li­cations. Our telematic ECUs and cloud systems enable agri­cult­ural manu­fact­urers big data analysis, updates over-the-air and pre­cision farming app­li­cat­ions. We would be happy to imp­le­ment your indi­vidual telematic solution for a continuous overview of your vehicles in the field, including current GPS position, GEO fenc­ing, log­ging func­tio­nal­ity and the support of numerous protocols.
Modular telematics ECUs – COMhawk® series
Cloud systems
IoT Device Manager for updates over-the-air
IoT Analytics Manager for statistical evaluations
Predictive maintenance and condition based monitoring software