Smart and ultra-compact Bluetooth module with integrated battery supply and extended version with accelerometer
Bluetooth 5.0 Low Energy
Optional accelerometer with ±24 g
IP67 protection class
Casted electronics
Operating temperature –40°C to +65°C
CE certified
Make your machines smart – with the extremely compact Bluetooth node from Sontheim. Thanks to a size smaller than a bank card, the module can be easily and specifically be attached to almost all machines. With an integrated memory of 2 MB, data of the connected machine can be stored (10-digit identification number, 4× 128 byte data) and retrieved via Bluetooth. Thus, for example, the presence, operating hours or special operation modes can be transmitted and queried easily and efficiently. In addition, the module can be seamlessly integrated into the infrastructure of our COMhawk® xt telemetry series.
Information from the machine can thus be recorded via Bluetooth and transferred to a cloud for further analysis using the telemetry module. Various operating modes can be recorded, categorized and made available via an additionally integrated acceleration sensor (Beacon BTA variant). With its casted electronics and an IP67 protection class, the module offers the necessary protection for harsh environmental conditions and installation outside the cabin. An operating temperature of –40°C to +65°C and CE certification round off the overall package.
| | |
| --- | --- |
| Bluetooth | 5.0 Low Energy |
| Memory | 2 MB |
| Accelerometer | ±24 g (Beacon BTA variant) |
| Protection Class | IP67 (casted electronics) |
| Dimensions (l×w×h) | app. 75 mm × 43 mm × 17 mm |
| Weight | app. 53 g |
| Battery | Integrated, life expectancy 7–10 years |
| Operating temperature | –40°C up to +65°C |
| Storage temperature | –40°C up to +85°C |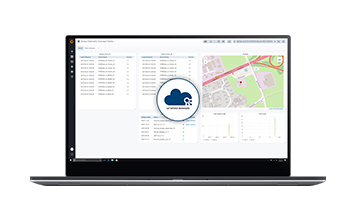 Cloud-based tool for simple and clear man­age­ment of your te­le­ma­tics units in the field.
Management of all telematic units
Live-Data Monitoring
Managing over-the-air-updates
Drag-and-Drop Functionality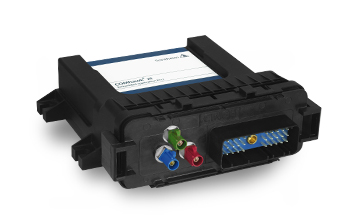 Next generation em­bed­ded app­li­ca­tion ECU with up to four CAN inter­faces. Use as te­le­me­try and dia­gnos­tic module as well as gate­way, data ser­ver and data logger.
Powerful ARM Cortex-A9 processor
2× CAN acc. to ISO 11898 (opt. 4× CAN)
2G/LTE
Linux operating system
Low-cost IoT-module of the next generation with one CAN interface. Used as a telemetry, dia­gnos­tic and gateway module.
32-bit microcontroller
1× CAN interface acc. to ISO 11898
2G/LTE
GNSS