Factory and multidisciplinary Break­out box for easy cab­ling and con­nec­tion of var­i­ous meas­ure­ment setups
2× analysis plug, 5× CAN interface acc. to ISO 11898, 1× serial
Simple cabling
Cross-plant and multidisciplinary project
Solid aluminium housing for top hat rail mounting
Overview
The Breakout box is used for simple cabling and for the connection of various meas­ure­ment setups that are to be carried out using the analysis interfaces. It is a cross-factory and cross-depart­mental Breakout box for vehicles from L6 upwards, where all essential PINs of the analysis plugs 1 and 2 are brought out. Ad­dit­io­nally, an adapter cable for the analysis interfaces 1 and 2, a termination cable and a Y-cable for the analysis interface 3 (Flex Ray) are available. The Breakout box offers great ad­vant­ages due to the easily acces­sible interfaces. All connections are plug­gable and can be connected using banana plugs as well as D-Sub plugs.
The module itself is made of robust alu­mi­ni­um and has a device for top hat rail mount­ing.

Interfaces
The interfaces are all on the front panel, which allows fast and clear cabling. A total of five CAN interfaces according to ISO 11898 are avail­able. In addition, D-Sub25 sockets are provided for the analysis plugs. The serial trace interface is im­ple­men­ted via D-Sub9. In addition to the D-Sub sockets, 10 ba­na­na sockets are avail­able for signal contacting, which are equipped with a green LED as soon as a connection is established.
| | |
| --- | --- |
| Analysis plug | 2× Analysis socket, D-Sub25 |
| CAN | 5× CAN interface acc. to ISO 11898, D-Sub9 |
| Serial Trace | 1× serial interface, D-Sub9 |
| Dimensions (l×w×h) | 121 mm × 120 mm × 81,5 mm |
| Weight | ca. 400 g |
| Operating temperature | 0°C up to +60°C |
| Storage temperature | –20°C up to +70°C |
| Humidity | 90 % non-condensing |
| Protection class | IP20 |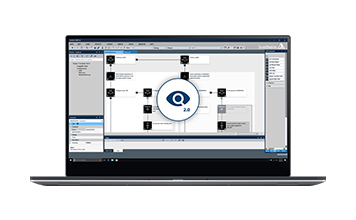 Modular authoring sys­tem for the cre­a­tion of complex dia­gnos­tic app­li­ca­tions in the auto­motive sector. Based on ODX and OTX stan­dard and an MCD-3D server.
ODX support according to ISO 22901-1
OTX support according to ISO 13209
MCD-3D Server
Platform independent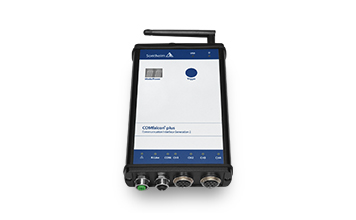 High-performance Ve­hi­cle Com­mu­ni­ca­tion In­ter­faces for de­vel­op­ment, pro­duc­tion and ser­vice app­li­ca­tions in the auto­mo­tive sector.
Up to 6× CAN interface
WLAN, LAN, Bluetooth, USB, ...
LIN, RS232, RS485, ...
With logging function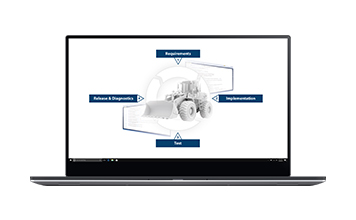 The latest generation of the Communication Life­cycle Man­ager en­ables the entire ve­hicle data man­age­ment based on ODX in just one tool.
Mgmt. of all fieldbus-based data
Web-based tool
ODX 2.2.0 support according to ISO 22901-1
Automatic code generation