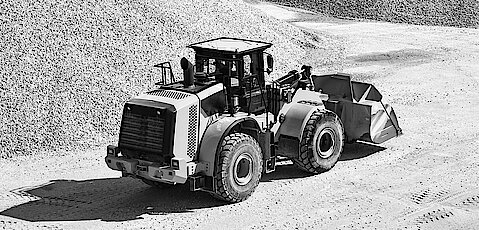 In the field of construction machinery, we work with the world's leading manufacturers and suppliers. Robust­ness, relia­bility and the auto­mation of work proces­ses make heavy demands on control and net­working as well as oper­ating and dia­gnostic tasks in con­struction machines.
Sontheim is specialized in solutions in the field of mobile automation, dia­gnos­tics and connec­tivity for con­struc­tion machinery for almost two decades and offers a compre­hen­sive port­folio. Here we can also include our in-depth knowledge from the agri­cultural sector, since there are often overlaps and similar require­ments in both areas.
Manufacturers of construction machin­ery benefit among others from our modern control tech­nol­ogies. These are specially designed for a daily use under the harshest conditions and are accordingly protected against vibrations, shock and temperature fluc­tu­at­ions. With a protec­tion classi­fi­cation of up to IP69K, it promises extensive pro­tection against salt, fog and water jet effects. In addition to normal controls, we also have func­tional safety controls up to ASIL-C in our port­folio in accordance with ISO 26262 and with AUTOSAR.
An individual adaptation and scalability is guaranteed and up to 89 IOs are available. Our port­folio also includes sensors for the acqui­sition of data, as well as displays and terminal solutions for operating machines and evaluating sta­tus infor­mation such as alarm messages or targeted dia­gnostic infor­mat­ion from the system.
We offer OEMs a comprehensive dia­gnos­tic port­folio based on the latest industry standards such as ODX according to ISO 22901-1 and OTX according to ISO 13209 as well as an MCD-3D server. Our products are extremely performant and platform-independent. A diagnosis is there­fore pos­sible on a PC, laptop, mobile device or embedded, directly in the vehicle. RMI information and other EU guide­lines can also be handled with our tools.
MDT® 2.0 Authoring System
MDT® Service Cloud (remote diagnosis)
CLCM 2.0 – Lifecycle Manager for data description based on ODX
CANexplorer 4 for CAN bus analysis
Flash tool
This covers a wide range of development, service and maintenance applications, such as flash tools, end-of-line (EoL) program­ming and dia­gnostic soft­ware for Service 4.0 app­li­cat­ions. With our VCI port­folio, we also provide the interface to the vehicle and are happy to adapt our existing VCIs to your needs.
End of line
On-board diagnosis
Remote diagnosis
VCIs – Powerful Vehicle Communication Interfaces
Protocol Stacks
We connect machines and enable solutions for IoT- and Service 4.0 applications. Our tele­matic ECUs and cloud systems enable OEMs of con­struc­tion machinery big data analyzes, updates over-the-air and tar­geted fleet manage­ment. We are happy to im­ple­ment individual tele­matic solutions for a contin­uous overview of vehicles in the field, including current GPS position, GEO fencing, logging function and numerous protocol support.
Modular telematic ECUs – COMhawk® series
Cloud systems
IoT Device Manager for updates over-the-air
IoT Analytics Manager for statistical evaluations
Predictive maintenance and condition based monitoring software