Communication module with three CAN interfaces according to ISO 11898, used as telemetry and dia­gnos­tic module as well as gateway, data server and data logger
Powerful 32-bit microcontroller
3× CAN interface acc. to ISO 11898 (opt. 4× CAN)
1× Ethernet, 10/100 Mbit/s
WLAN acc. to IEEE 802.11 b/g/n
Data logging
Protection class IP69K
Vibration protected
Housing and interfaces
In addition to up to four CAN channels, the new COMhawk® also features Ethernet, WLAN and op­tio­nal­ly two digital inputs and one digital out­put. During development, great impor­tance was also attached to an extreme­ly robust and resistant de­sign in order to meet the current safe­ty stan­dards. The device is designed for use outside the cabin of a vehicle and has been vi­bra­tion test­ed accordingly. A temperature range of –40°C to +85°C and the compact IP69K housing round off the over­all package and gua­ran­tee extensive protection.

Wide range of applications
A powerful 32-bit microcontroller enables even demanding applications and thanks to the in­te­gra­ted NAND flash memory of up to 16 GB, large amounts of data can be stored.
The COMhawk® can therefore be used for a wide range of communication and diagnostic tasks, and can act as a communication in­ter­face, gateway, e­vent logger or telemetry node, for example.
Software-Support
The freely programmable and real-time-capable ECU system can be programmed by the user for specific applications. A con­fi­gur­able data interface allows, for ex­am­ple, an individual con­fi­gur­a­tion of the interfaces or setup of an app­li­ca­tion to be solved in a time-­saving manner. Fur­ther­more, con­trol loops can be mapped very easily via an integrated script interpreter. A further advantage is the reusability of this type of programming, which makes future work even more efficient. A complete development environment is avail­able to the user.
CPU
32-bit microcontroller, SPC 5123 400 MHz
RAM
32 MB up to 256 MB
Memory
16 MB up to 16 GB NAND flash memory
CAN
3× CAN interface acc. to ISO 11898 (optional up to 4× CAN)
Ethernet
1× Ethernet, 10/100 Mbit/s
WLAN
1× IEEE 802.11 b/g/n
IOs
optional 2× DI,
optional 1× DO
Operating system
RTOS (μC/OS-II) or LINUX
Plug
18-pole Automotive plug
Housing
IP69K
Dimensions (l×w×h)
approx. 130 mm × 124 mm × 38 mm
Weight
375 g
Operating temperature
–40°C up to +85°C
Storage temperature
–40°C up to +85°C
Power supply
6–32 V DC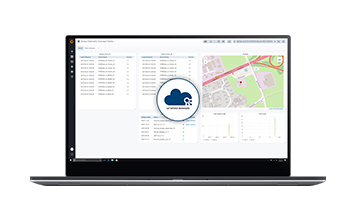 Cloud-based tool for simple and clear man­age­ment of your te­le­ma­tics units in the field.
Management of all telematic units
Live-Data Monitoring
Managing over-the-air-updates
Drag-and-Drop Functionality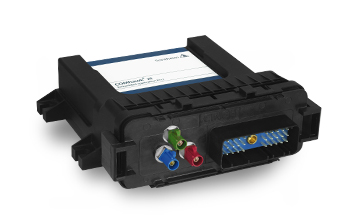 Next generation em­bed­ded app­li­ca­tion ECU with up to four CAN inter­faces. Use as te­le­me­try and dia­gnos­tic module as well as gate­way, data ser­ver and data logger.
Powerful ARM Cortex-A9 processor
2× CAN acc. to ISO 11898 (opt. 4× CAN)
2G/LTE
Linux operating system
Low-cost IoT-module of the next generation with one CAN interface. Used as a telemetry, dia­gnos­tic and gateway module.
32-bit microcontroller
1× CAN interface acc. to ISO 11898
2G/LTE
GNSS