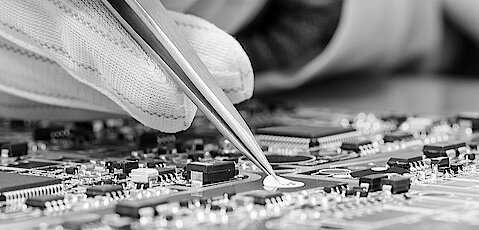 Custom electronic systems and components
On our modern production lines we manu­facture electronic components and systems accor­ding to your ideas in the best quality, on time and of course cost-optimized. We are cha­racter­ized by our flexi­bil­ity and can load and manu­facture batch sizes from just one proto­type to series orders of almost 1,250,000 units per year.
Our qualified employees will assemble, manufacture and test your components and systems using the most modern systems and tools.
We work together very close with our customers and can respond flexibly to requests and take them into account. Our certification according to the international standard ISO 9001 confirms our quality orientation in every sub-process that deter­mines our daily thinking and acting. In this way we guarantee a steady increase in our performance. In addition, our production is certified according to the guidelines IPC-A-610 and IPC-J-STD-001 in order to guarantee an optimal and flawless pro­duc­tion of electronic components.
We already manufacture for the following industries and fields of application:
Automotive Industry:
Commercial vehicles
Municipal vehicles
Construction machinery
Material handling
Agricultural vehicles
Fire engines
Special transport vehicles
Passenger cars
Trailer
Industrial Industry:
Printing systems
Packaging machines
Textile machines
Sorting machines
Food industry
Mechanical engineering
Wood processing industry
Medical technology
Additive manufacturing